We are delighted to be hosting Authentic Movement teacher Susan Schell in Abercych this June.
WORKSHOP NOW FULL… SEPARATE POST SOON DETAILING COMMUNITY DAY that Susan will contribute to on Sunday 30th June.
Susan is an inspiring and emotionally courageous movement practitioner, also now also working as a interfaith hospice chaplain.
Bigger than the Body 
24th to 29th June 2019
Abercych, Pembrokeshire, Wales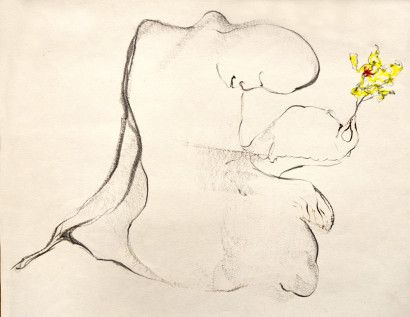 As movers, we will begin with the bare bones that support the form of Authentic Movement; connection to self, sensation, imagination, memory and perception. We will also be deepening our experience of what it is to hold the space, both within us as well as outside our physical bodies as we witness one another. At first glance, we are often most aware of what occupies the space, the people, walls, floor and so on, and less aware of the space that is surrounding and infusing everything.
In our seemingly concrete world, it is unusual to register the fact that what appears as 'object' is predominately 'space'. To recognize that space does not belong to anyone yet fills ALL, can provide us with an experience of space as connective tissue – the unifying element between the visible and invisible, form and essence – that which is holding us. Through time an intimacy grows, a balance between 'knowing' and 'not knowing', 'seeing' and 'sensing' that can bring us to the threshold of grace.
£350 (non-residential – low cost accommodation available locally)
For more info & to book contact Stirling: 01239 841488/rstirlingsteward@gmail.com
Places limited to 14
Susan Schell has been teaching and performing from a foundation deeply planted in the practice of improvisational forms for over 40 years. In the early 80's she studied in-depth the practice of Authentic Movement with Janet Adler. Since then, she has been exploring, developing and teaching on-going classes, intensives and retreats in the US and abroad. In 2012 she completed a two year interfaith chaplaincy program and now, in addition to dancing, she also serves as a hospice chaplain.